Professional Service Area:
Office Sourcing and Project Management.
Project Name:
8-34 Percy Place, Dublin 4.
Client / Reference:
CPL Resources PLC.
Project Role:
REPP as project lead for sequential site search, Lease negotiation and project management of Tenant fit-out.
Project Brief:
Identification of new group headquarters for 235 staff.
Negotiation of lease commercial terms.
Project management of cat A works and Tenant fit-out.
Project Duration:
12 Months in total. 7 Months site acquisition, 5 Months in planning, tender and refurbishment. Complete Q3 2014.
Project Team:
McStan Construction – Contractor.
Kennedy Woods – Architect.
Noel Lawlor Consulting Engineers – Services Engineers.
AMOSS Solicitors.
Project Successes:
High speed refurbishment of 16,000 square foot office and relocation of 235 staff over 3 weekends with no disruption in business operations.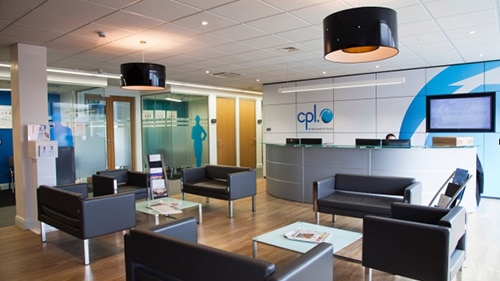 26 Ranelagh, Ranelagh, Dublin 6, D06 WY97 | Tel: +353 (0) 1 681 4664 | Email: info@reprojectpartners.ie
PSR Licence number 003767